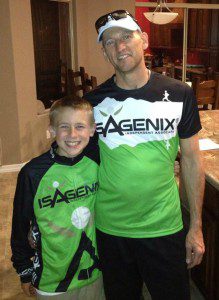 Three years ago, after serving on the police force for 21 years, Brent retired from the South Mountain Precinct based in Phoenix, Arizona. Years earlier, he was promoted as lieutenant of the precinct and worked a precarious shift: 9 p.m. to 7 a.m.
Brent was facing the "nightly" pressures as patrol lieutenant. He managed four squad areas and oversaw 60 police officers and five sergeants.
Needless to mention, Brent was thoroughly exhausted.
"I just decided that I was ready for something different," says Brent. "I wasn't on the same schedule as my family, and—as you can imagine—the job was quite stressful. I was ready for a change."
Working Out the Stress
To release the daily pressures of his job, Brent worked out with fitness trainers, Jill and Andy B., for nearly 20 years. They also happened to be Isagenix Associates.
Aware of Brent's demanding career situation, Andy sat down with Brent to talk about a better solution for his overall health and well-being.
"Andy told me that I needed to be using Isagenix," recalls Brent. "And with Andy's reputation, if he tells me to do something then I'm going to do it."
Soon Brent noticed increased energy, an improved mood and overall better physical outcomes when pairing Isagenix with his workouts.

Cynic Turned Believer
During his first several months using Isagenix in August 2012, Brent wasn't interested in the business. It was eight months after using the products that he started getting serious about it.
"I use Isagenix to enhance my nutritional well-being," says Brent. "I don't look at it as a diet, rather a source of nutrition. That's what got me passionate about the business side."
Now, Brent feels much more relaxed—personally and financially.
"Jill had signed me up and I didn't realize that I needed to keep a 100 BV order because I was just ordering items on a regular basis," laughs Brent. "Finally, she said, 'You really need to look at the financial side of Isagenix.'"
Having experience with a few network marketing companies in the past, Brent was initially skeptical of actually creating a profit with Isagenix.
"I had never made a dollar on any of them," says Brent. "But then I received my first paycheck from Isagenix last February and made $212."**
That extra income paid for his Isagenix products, and his belief in the business began to soar.
That doesn't matter much to him though; since February of last year, Brent is earning more than he did through Isagenix than he did as a police officer. Now, Brent makes about $9,000 per month selling Isagenix.**
But the best part? Time with his wife, Tracey, and 9-year-old son, Zachary.
"I enjoy my freedom and can finally spend time with my wife and son," laughs Brent. "My relationship with my family is dramatically better because I'm awake when they're awake!"
Source: Isagenix