This inspiring group of individuals raises the bar and sets a new challenge standard for excellence.
Their commitment to change coupled with their stories  "wowed" our judges and won them each $3,000 cash, a trip for themselves and a guest to 2014 Top Achievers, 2014 Celebration, a spot aboard the 2014 IsaBody Challenge Transformation Cruise,** and the chance to win $25,000 cash.
The Top Achievers Are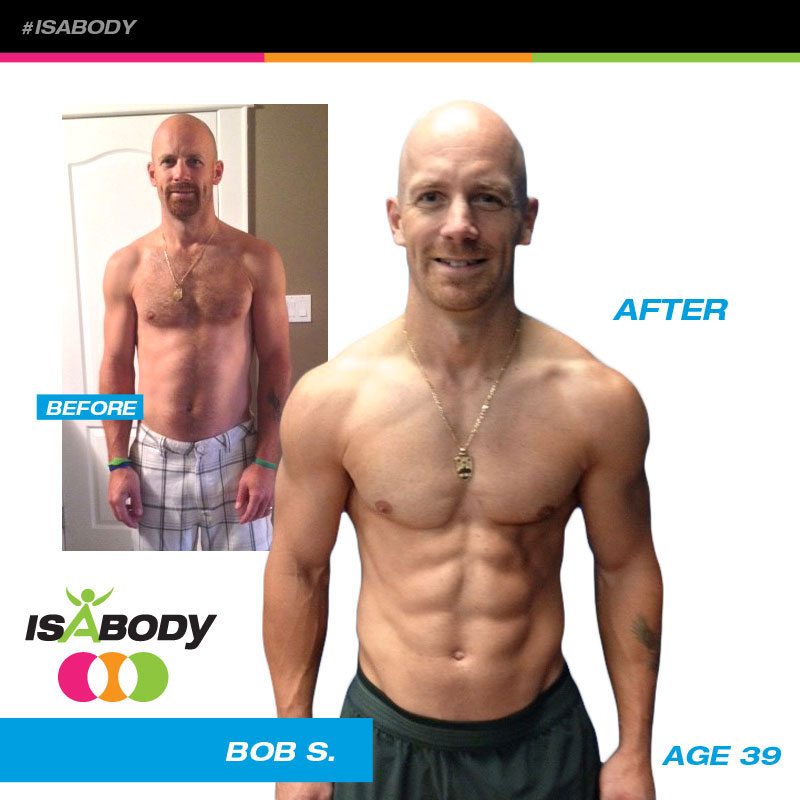 Bob S.
British Columbia
Gained: 8 pounds*
Bob has been a faithful product user and business builder for nearly five years, but never having his own "after" photo made it awkward for him to walk into a gym and offer Isagenix products. He knew if he really wanted to ignite his Isagenix business and speak from experience, he had to challenge his own limits. To do that, he joined a gym and the IsaBody Challenge. "My goal was to be the first participant to actually put on weight and prove the system was not a 'diet,' but a true health and wellness program," he says. The Challenge not only gave him the drive and accountability to stay motivated, but a platform to build on. Now Bob can transform his Challenge motto of "focus on the process and results will come" and apply it to his growing business.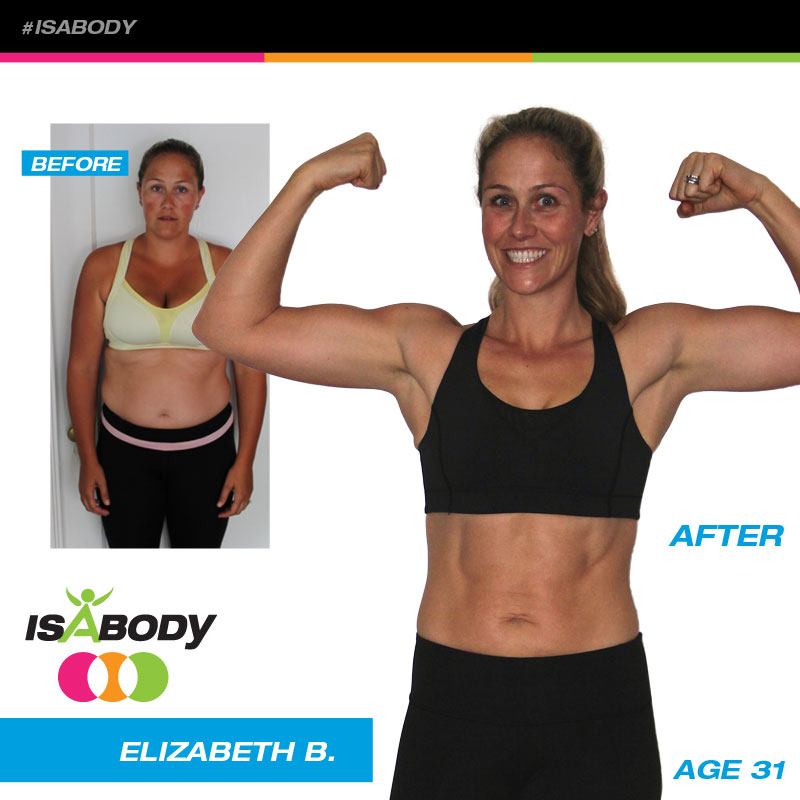 Elizabeth B.
California
Lost: 44 pounds* from back-to-back Challenges
"If you told me two years ago that I would be 100 pounds lighter, have more energy, and be in the best shape of my life, I would have laughed," shares Elizabeth. Truth was, her weight hit 245 pounds while pregnant with her son—the heaviest she's ever weighed. After succumbing to a persistent friend and joining Isagenix, Elizabeth also signed up for the Challenge. She released 34 pounds in her first challenge and took to stage at New Year Kick Off as an Honorable Mention revealing her sleek new physique. What she didn't expect was to inspire others to get healthy. Hearing how she was an inspiration to others influenced Elizabeth to sign up for her second Challenge and release an additional 10 pounds. To date, that's not her biggest Isagenix accomplishment. That came from releasing a total of 74 inches and slipping into a size 2/4 dress for the first time in her life!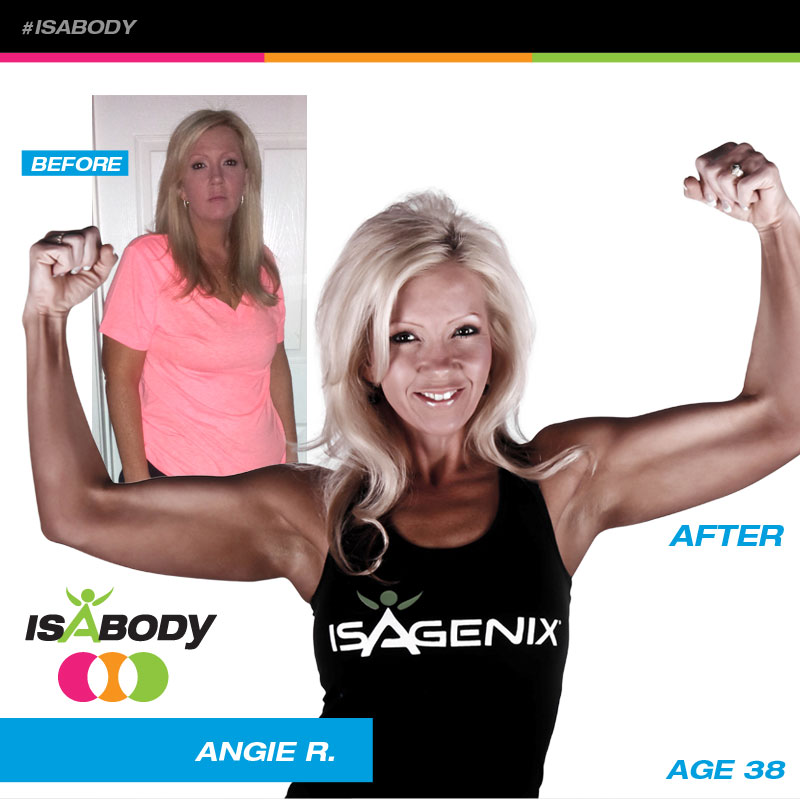 Angie R.
Arizona
Lost: 37 pounds* (140 pounds total)
Angie is a dreamer and for most of her life she would close her eyes and dream of what life would be like at an "average" size. Most of Angie's family is overweight, and last year, her father told her he only had a few years left to live because of his weight. Her pain didn't stop there. "I spent many years of my life in an abusive marriage," she adds. "One that left me with a broken spirit, a broken back and a lost smile." After turning to comfort food to kill the pain for a long time, Angie finally resolved to change. Realizing her children deserved a strong mother who would live a long healthy life, Angie took action. She decided to finally open the brown box that sat on her counter for months and give the products a try. That day started a journey for Angie that left her over 100 pounds lighter. "I now had a vision, the IsaBody Challenge." Her success didn't stop there. Because of her dramatic weight loss, Angie was able to play with her kids for the first time in their lives. She also helped her family cumulatively release more than 400 pounds, including her dad who has released a total of 100 pounds and joined her as a member of the 100-Pound Club.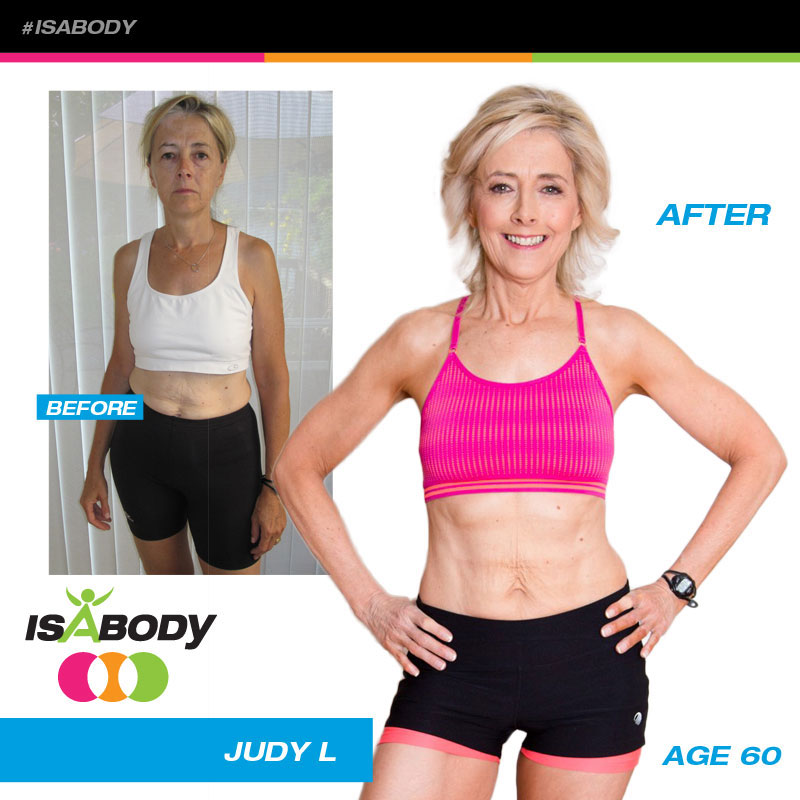 Judy L.
Ontario
Lost: 8 pounds*
Internally, Judy was confident, but externally she was unsure of herself and second guessing everything she did. Her career as a body-oriented psychotherapist was finally taking its toll on the teacher. She was "delicate," constantly getting sick and irritable all the time. After being introduced to Isagenix in 2007 at the age of 60 and trying the 30-Day Cleansing and Fat Burning System, Judy was hooked. She was happier and more energetic than ever before. By 2013 Celebration, Judy was still "delicate" but looking to take her health to the next level. She knew the Challenge was the vehicle to make that happen. "Did the Challenge make a difference in my life? Just ask my husband. I'm now 116 pounds of lean, mean muscle!"
Her next Challenge goal is to achieve six-pack abs.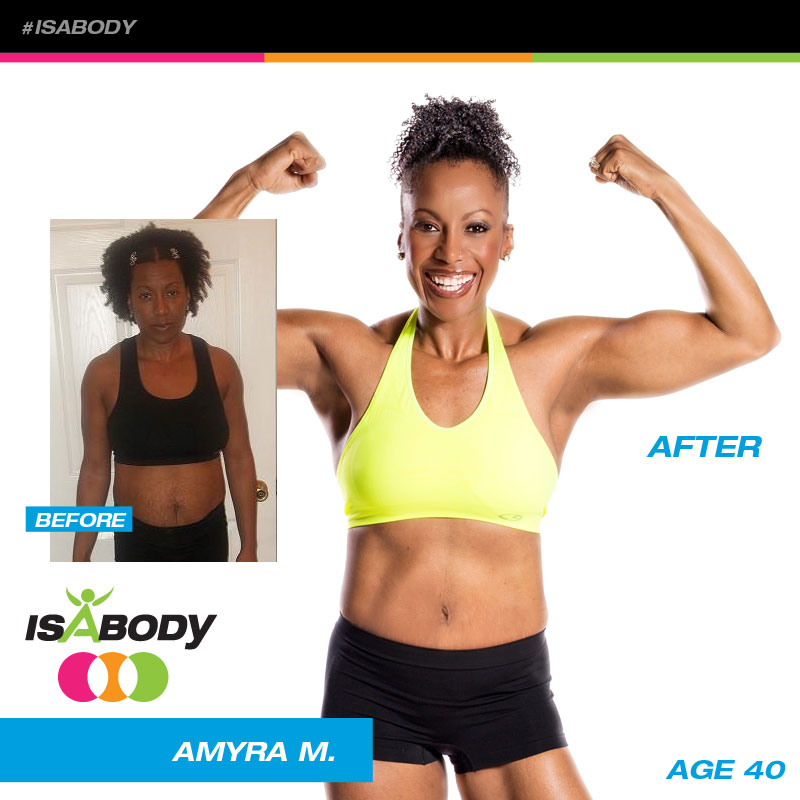 Amyra M.
Florida
Lost: 22 pounds* (from back-to-back Challenges)
A fitness professional by trade, Amyra worked out daily but was still gaining weight and constantly exhausted. She knew it was directly related to her financial pressures at home. She also knew something had to change and shortly thereafter was introduced to Isagenix. Completing her second IsaBody Challenge, Amyra has released 22 pounds and dropped six dress sizes, but says it is her Isagenix business that is truly transforming her life. By sharing her story on Facebook, Amyra is attracting like-minded people to her business and as a result, contributing $300-$900 a month to her household income, lessening the strain on her family. "While my IsaBody Challenge is complete, my full transformation is just beginning," shares Amyra. "I now have a confident expectation of our financial future."
Whether you're looking to increase your energy and performance, lose weight, or target healthy aging, the IsaBody Challenge is the vehicle to fuel your success.
Who Will Win?
Stay tuned to see who will be crowned the 2014 IsaBody Challenge Grand Prize Winner at this year's annual Celebration and win $25,000 cash; a personal photo shoot; paid trips to 2014 and 2015 Celebration, 2014 IsaBody Challenge Transformation Cruise, 2015 New Year Kick Off, 2015 Top Achievers, Isagenix University, Powerful Presentations; exclusive business training and more!**
To register for the Challenge or get complete rules, visit IsaBodyChallenge.com.
*The weight loss testimonials presented apply only to the individuals depicted, cannot be guaranteed, and should not be considered typical. A 2008 university study showed a statistically significant weight loss of 7 pounds (3.2 kg) during the first 9 days of the Cleansing and Fat Burning System.
**Paid expenses include accommodations, airfare, and ground transportation. Note: In order to be eligible for each trip, winners must maintain or improve their results. "Maintenance" photos will be required prior to booking the awarded trips.
Source: Isagenix
Related Posts You Might Like:
Amazing Isagenix Testimonials
How Much Is Isagenix?
Does Isagenix Work?
Buy An Isagenix Sample Pack