This is where you can buy Color Street nail polish strips online from a Color Street Consultant.
You can buy your Color Street Nails online without signing up or committing to anything but beautiful nails.
The only requirement is that you order through a distributor's website because you can't buy the Color Street Nail Polish Strips in the store.
I am not a stylist but you can buy them from my friend at Pretty Chic Nails.
Looking for what's new?
Note: If you are looking for tips, color street graphics, how to sell, or items for your parties be sure to scan to the bottom.
Why Should You Buy Color Street Nail Polish
Color Street nail polish is a great way to get fabulous nails without worrying about exposing yourself to extra toxins or dealing with a long dry time.
Color Street doesn't promote that it is toxic-free but it is one of the less toxic options.
I've tried some of the less toxic nail polish and got frustrated because they didn't last very long.
Color Street Nails come in strips and you simply take them out of the pack and apply them.
No heat is needed!
Color Street Manicure Ideas
Check out my Pinterest page for manicure inspiration.
Where To Get Color Street Retired Sets
There have been some really great designs and colors over the years and I know you miss them.
The only way to get retired sets is to reach out to your friends that sell Color Street and ask if they have them.
How Long Do Color Street Nails Last?
I won't lie and tell you they will last for weeks but they will last longer than traditional nail polish and you won't risk messing them up.
These nail strips last even longer when applied over acrylics so if you go to a salon you can extend your time between fills.
Color Street Nails Are Easy To Apply
My daughters watched a youtube video and then applied their nails in about 10 minutes. This is them showing their aunt how to apply the nails when we were at Chicfila.
Your Chance To Try Fun Nail Art
I don't know about you but I don't have time to go to a salon nor do I want to.
It's just not relaxing to me.
I hate spending the money, breathing in the fumes, and I would rather spend my time elsewhere.
With Color Street you get a chance to wear fun designs that you typically would never try.
It's fun having fabulous fun nails.
Try it!
Note: The strips do have a polish smell since they are real nail polish but the smell dissipates within minutes.
This Is How You Remove Your Color Street Nail Polish Strips
Nail Polish Remover Nontoxic

Color Street Nails are made from real nail polish and are easy to remove with your favorite nail polish remover.
My favorite polish remover is this nontoxic one I found on Amazon. 3 Crystal Nail Files

It takes a little getting used to because it is very oily.
I discovered if I file the top of my polished nail lightly with a nail file and then use the remover to take off the polish it works the best.
I really like how it moisturizes your nails and cuticles, too.
Special Note: Using a glass nail file is the best for your nails.
I got this set of 3 on Amazon for my daughters.
Pro Tip For Brittle Or Weak Nails
If you have brittle or weak nails you should try taking collagen on a regular basis.
Why? Because as we age we produce less collagen which gradually contributes to dull hair, wrinkles, and weak nails.
I've taken a variety of different collagens over the years and in different forms.
I've used powder collagen (like this one) in the past but since using marine collagen I believe I'm seeing better results.
The photo below shows what it did for this lady's hands!
See more before/after photos plus learn more about the Isagenix Collagen Here.
How To Sell Color Street Nails
The best way to start selling color street nails is to contact the person who told you about Color Street.
They will direct you to the Color Street training and the facebook group of your group.
If you don't know the person who told you about Color Street or you don't have a sponsor then contact Color Street directly and ask them what group you are in.
Color Street Supports Foundations
Over the years Color Street has supported many great foundations by making limited-edition polish strips.
A popular color was ColorStreet 1 in 4 to help raise awareness of domestic violence.
You can find the other foundations and the color strips they support here.
Bandana Republic Color Street Nails
This mixed mani using Color Street's brand new Americana Collection clear overlay Bandana Republic is demonstrated by Tara Stoddard.
What Color Polish Strips Should You Buy?
Use this handy chart to pick out the color of the nail polish strips you want to use.
Note: It was made for fun and isn't an exact science.
Another Fun Color Chart
This is another fun chart you can use to determine the color of nail polish strips you want to buy.
Best Tips For Applying Solid Nail Strips
Color Street Nail Colors
There are over 100 different Color Street nail strips for you to choose from.
Belgian Butter Cup
These yellow solid looks are fabulous on their own or in a mixed mani.
Hue Can Do It
This mixed nail strip color would like amazing with Belgium Buttercup, Shimmer Down, Himalayan Salt, Sugar Bliss, Aspen Sky, or Color Me Impressed.

Charleston Blush Color Street Alternative
Charleston Blush is an out-of-stock color that I've seen sold on Amazon.
The problem with buying out-of-stock strips is that they may not be fresh and useable when you get them.
Charleston Blush, is a sweet, pretty pale pink so a current nail strip alternative to it could be Himalayan Salt.
Aspen Sky Color Street
Aspen Sky's pale periwinkle with creme finish is the perfect cool blue finish for your nails!
Living The Gleam Color Street
Living the Gleam was a very popular color but it is retired.
Color Street Graphics, Banners, And Misc. Items
Warning: Do not download images with a watermark/website link and then use them on your own website or your social media.
I've attempted to only collect graphics that could be shared but if one of these graphics on my site is yours (or Pinterest) and you do not wish them to be used please contact me at stacy@alesstoxiclife.com.
Also, check out my Pinterest board for my graphic ideas.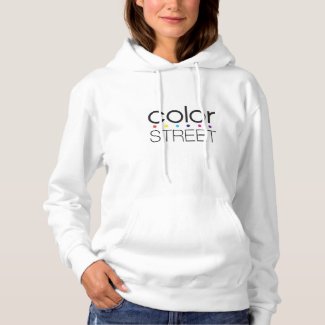 Buy This Color Street Hoodie- Stylist Hoodie

Have A Question About Color Street Nails?
I don't sell Color Street. You can visit Pretty Chic Nails for more information and buy from her site at the pink button.